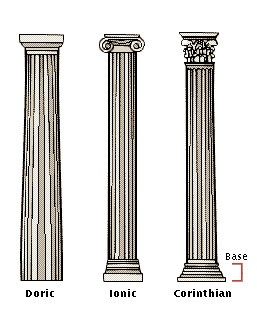 Greek Columns
Within the Greek Temple-architecture we can distinguish 3 different styles: Doric, Ionic and Corithic Architecture.

The Doric column is a column without a basement. It is a rather heavy column with a simple cover on top. In a Doric Temple the space right above the column is open-work with metopes and triglyphs. Sort of open space created with small little columns between the columns and the roof. The steps towards the Doric Temple are never more than 3.

The Ionic column caracterizes because it does have a basement.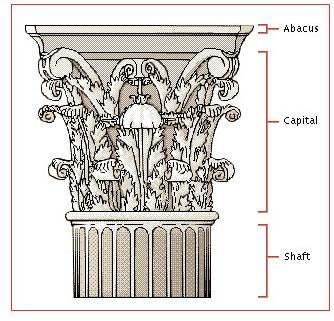 The column is slimmer and higher than the Doric colmn and the cover (capital) is decorated with volutes (beautifull sculptured curls at the top).
The part between the columns and the roof is closed and decorated with sculptures. The stairs towards the Ionic Temple usually consists of more than 3 steps.

The Corinthian column just like the Ionic culumn does have a basement. Where the Ionic basement only has 1 level the Corinthian basement usually has more levels. These columns are also slim and high, but the Capital (cover) is different. The volutes are replaced by acuntusleaves (see picture). The space between the columns and the roof is similar to the Ionic column although the sculpture can be more separate and vivid. The Corinthic Temple always has more than 3 steps.